Graphics card, etc. doubled in two months
Demand for PCs is increasing but profitability is low
The US dollar has strengthened and the electricity shortage in China also overlaps
The prices of PC spare parts are on the rise again. As the prices of central processing units (CPUs) and graphics cards have doubled in the past two months, small and medium-sized businesses (SMBs) are deeply troubled. The strength of the dollar and the shortage of electricity in China are also causing delays in product launches. Since August, as the price of major PC components has increased, small and medium-sized PC manufacturers have either given up on new product launches or have been unable to supply existing products. As the demand for PCs increased, expensive parts were purchased and supplied, but some companies gave up as profitability hit bottom.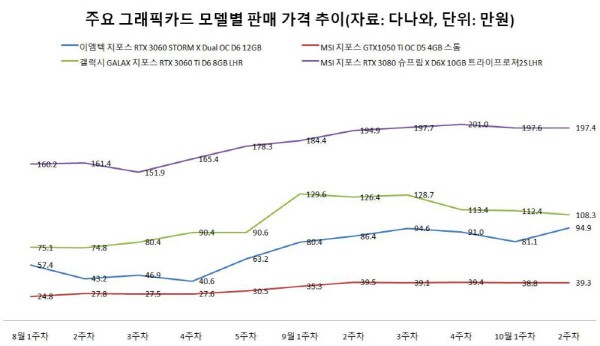 Company A, a small and medium-sized PC company, launched its first laptop last year as demand for laptops skyrocketed due to COVID-19. They tried to release eight new products this year, but only two were released. Indeed, it is impossible to respect the price of the finished product while the price of the graphics card is skyrocketing. Ahead of the end of the year, the launch of a collaboration product with an appliance distributor was also delayed for several months because it was unable to obtain graphics cards. Company B has also suffered from soaring component prices and the power shortage in China. Ahead of the launch of Intel's new processor next month, we got parts despite difficult circumstances, but we are going through a difficult time as the utilization rate of the motherboard production plant in China is declining. An official from Company B said, "As Intel launches a new 12th generation processor as early as next month, the PC industry needs to launch the product on time, but it is delayed by around a month due to lack of motherboards caused by power cuts. in China."
Analysis of the price of major PC components via Danawa in the second week of October, the Electronic Times found that compared to the first week of August, the average price of graphics cards increased by 33.9 % and 8.9% processors. Some models, such as 'EM Tech GeForce RTX 3060 Storm X Dual OC D6 (12GB)', nearly doubled their price compared to early August, reaching 1 million won.
Indeed, the supply was not regular due to a shortage of semiconductors which continued last year. Bitcoin mining, which drove graphics card prices up, was at an all-time low due to Chinese government regulations, but the main mining force shifted to other countries, resulting in a further increase in demand for graphics cards. In addition, the won-dollar exchange rate, which was in the 1,080 won range at the start of this year, has recently risen to the 1,200 won range, causing coin prices to inflation.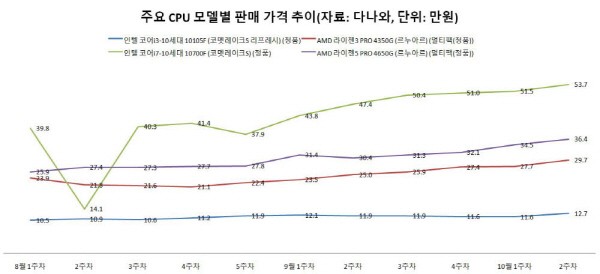 Dong-soo Kim, chairman of the Government Procurement Computer Association, said, "Government procurement has extended the delivery time by two weeks since the start of this year, but parts supply is not smooth, it is therefore difficult to deliver them. The association is also discussing related countermeasures such as joint purchasing. "
By Yong-cheol Jung, reporter [email protected]